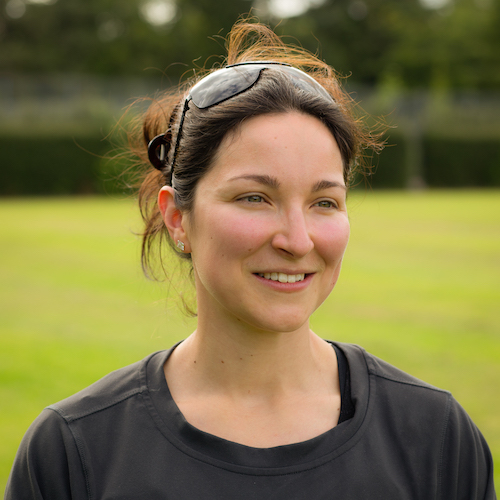 Violaine Delauge is a Level 3 REPS accredited personal trainer as well as a Life Coach. She has a keen interest in strength and conditioning and holds specialist certification in Pilates and pre and post-natal coaching.
For the past 7 years, Violaine has worked with men and women of all ages and capabilities. If you're looking to build general strength, rehabilitate after surgery or train for a specific sport, then Violaine has the experience to drive you towards your goals. Violaine's specialist training for pregnant and Post-partum women means she is uniquely equipped to guide you through the various stages of pregnancy. She loves seeing her clients progress and reach their goals. Each session is tailored to the abilities of the client and is always delivered in a very positive way.
Violaine is passionate about exercise for all and she is currently deepening her knowledge by studying Pregnancy and Post Athleticism. This will allow her to offer more advanced coaching to female athletes during pregnancy and post-partum.
"Training with Violaine has been the best thing I have ever done . I'm stronger and more confident than ever at 54! I recently upped my training with her to twice weekly and my confidence has grown so much as well as my strength . I'm doing things in the gym with weights I really thought was not possible . With her continued guidance and encouragement you can do anything and achieve goals you never thought were possible . Her sessions are hard work but enjoyable and varied I'm confident in everything she does with me and look forward to each training session"
"I've been training with Violaine for almost 2 years.  I've gone from being a reluctant gym user, with sore knees, unable to squat to a lover of exercise. Never the same workout, gym sessions are always fun but effective. Violaine's knowledge and experience  combining different techniques and a firm focus on posture and good form, is outstanding."
"I have attended Violaine's Pilates class for the past four-five years and have received personal training for almost three years.  Following her instructions she has helped me achieve my goals in an efficient and effective manner. Her approach is meticulous, focused and tailored to personal needs.  Put simply she is the best; I am sixty years old and have osteoporosis. With Violaine's individually structured approach I have gained in both muscle and core strength, with noticeably improved posture and balance.  I would have no hesitation recommending Violaine whatever one's requirements are."
I have been training 1-to-1 with Violaine for 2 years now. Her expertise, ability to adapt to her clients needs and attention to detail set her apart from her peers. When you add in her outgoing and friendly disposition it's a winning combination. Also the reasons I moved with her to Athletic Edge Gym.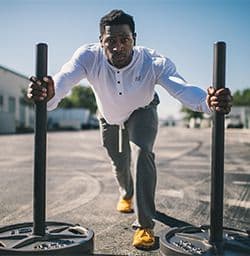 With 10+ years experience with coaching in sport and personal training Anthony is a competent and confident exercise professional. Passionate about movement and strength, coaching to any level is a rewarding and addictive process for him and the client. Anthony, believes that with time and hard work everyone is capable of positive transformation.
With his accumulated knowledge and experience Anthony will put you on the right track towards your goal from weight loss, muscle gain, injury rehabilitation, strength and sports performance.
Anthony is a qualified REPS level 3 Personal Trainer, BWL 1 Olympic Weightlifting Coach, Precision Nutrition qualified nutrition coach with aspirations of becoming a UKSCA accredited Strength and Conditioning Coach within 2020. 
Anthony is just well...EPIC! Great sense of humour, very approachable,motivating and such a knowledgeable person. Also genuinely being interested in your goals and achievements. I can't wait to see what happens in the future!